The Ultimate Smart Watch Buying Guide in 2023
Smart watch is a digital watch that provides the users with several innovative shortcuts to access daily updates, schedules and helps individuals in keeping track of their day-to-day progress. Similar to a classic analogue watch in appearanc. These smart watches are technically way ahead of their traditional versions. Smart watches are indeed life- changing innovations in the technical dimension of the human world.
Therefore, technicians and designers all over the world started to work on something even better than smartphones that can give us important notifications while we might be not able to take out our phone and check it.
Smart watch is a small smartphone-like device; that is worn on the wrist by an individual. Most of these smartwatches are connected to your smartphones that can notify the user of incoming calls or messages, texts from friends, and even notifications from different applications.
Are smartwatches really worth it?
Some people might think that smartwatches are made to give us only information related to notifications, and other small functionings, that can be done without a smartphone. We might come to the point that the interactions are limited in the case of a Smartwatch though they are very useful, in the present time.
Smart watches bring you time-saving unique shortcuts to all of your important notifications and weekly updates that your previous generation has always wished for. 
How do you choose the right smartwatch for yourself?
They might vary from person to person. like if you are a health-conscious person who likes to run laps in the morning, then you might look for certain features in a smartwatch that allows you to get access to your standalone GPS location, or calculate the heart rate of the footsteps, and other related data. However, on the other hand, if you are a swimmer then you might be looking for waterproof features in your Smartwatch.
Whereas busy people would look for smartwatches that can give them access to the notifications or make calls, go through certain small data, or listen and store music in these smartwatches. we can conclude that the features in a particular Smartwatch vary from one another according to the need and expectations of its users.
Are smartwatches and fitness trackers similar to each other?
We may not admit it, but most of the time we might get confused between a Smartwatch and a fitness tracker. As both of them have a similar appearance. But they are absolutely two different products.
Here is a couple of ways how you can differentiate between a fitness tracker and a smartwatch.
One of the basic features in the

best smartwatch

that can help you to distinguish it from a fitness tracker is, to check out whether your smartwatch can be connected to your iOS or Android, which is impossible in the case of a fitness tracker.

In both of these products, whether it is a

smartwatch for men

, a

smartwatch for women,

or a fitness tracker, you can get access to your health-related data like the footsteps counting for the distance walked or the heart rate and the time. So don't consider these features while distinguishing these two products.

Again, fitness trackers won't let you access the small notifications of your smartphones. smartwatches are an advantage in this case.

Fitness trackers and smartwatches can both get you access to calendar-related data.

Another big advantage of smartwatches is that they can store music and even allow you to make phone calls which a fitness tracker can never do.

In some

best smartwatches in India

,  highly modified technologies can allow the user to take pictures.
People often search for smartwatches on shopping websites because of their exclusive and luxurious designs and the purpose they serve. Some people buy it to gift it to their friends, or maybe for themselves. We have to admit that smartwatches over the past few years have become very famous.
Frequently Asked Questions on smartwatches:
Is it possible to use a smartwatch without a phone?
A Smartwatch with Bluetooth can be used without a smartphone. A Wi-Fi network can be accessed by most smartwatches. That means you can utilise apps on your watch even if it's not within the Bluetooth range of your phone.
Do smartwatches require Internet access?
No. A smartwatch is a smart item that works in conjunction with your smartphone. You can link your wristwatch to your mobile device via Bluetooth or Wi-Fi, depending on the model, so it doesn't require its own service plan.
What is the range of a smartwatch?
When it comes to connectivity, the smartwatch stays connected within a predetermined range of around 30 feet. However, each model is different, and some smartwatches also have the ability to install a SIM card and use it as a phone.
How far can a smartwatch be connected to Bluetooth?
The range of your phone's wireless Bluetooth connection to your bluetooth smartwatch varies a lot depending on the environment. You should have at least 10 meters (or 30 feet) of connectivity in general.
Can you connect two smartwatches to one phone?
No, this is not possible to do. A watch can only pair with one phone, but a phone can pair with 2 watches because a Smartwatch is a mini computer, and it won't interface with cell phones.
What Should I Look for In a

best Smartwatch

?
The most crucial thing to do before purchasing a smartwatch is to ensure that it is compatible with your smartphone. To get the most out of your smartwatch, as I previously stated, you will use it in conjunction with your smartphone.
If the appearance of the smartwatch is essential to you, as it most likely is, choose the one with the best appearance. Check to see if the bands are interchangeable and if there are a variety of watch faces to pick from.
One of the top three considerations you should consider is battery life. There are smartwatches that don't require charging every day or even at all. However, if you don't like wearing your smartwatch at night, you might want to reconsider.
If you have a seemingly fixed budget  the price of your future wristwatch is a huge deal. If you aren't going to use the features of an expensive smartwatch, don't spend too much money on it. There are some good-looking options that aren't too expensive.
Do you have a favourite app or apps that you'd like to utilise on your new smartwatch? Make sure it can run on a smartwatch and is optimised for it.
What are some of the

best smartwatch under 3000

?
Frequent searches are made by people who are looking for best smartwatch under 3000. But it is believed globally that the best things come with great prices but that's not always true. With Portronics you will have access to the best smartwatches in India that suits your pocket.
What are some of the

best smartwatch under 5000

?
Some of the best smartwatches can be found under this. However, branded smartwatches must reach up to 5 figures. However, Portronics will always make sure to provide you with the best that supports your budget.
Let's Introduce You to The Portronics Best Smartwatch Under 5000 Series That Can Fit Perfectly Both Your Budget and Your Sense of Style.
Portronics is a brand of smart watch that would suit both your budget and unique sense of style. They bring you the smart watch series that works as the ultimate solution for all of your shortcomings and inabilities to save second. 
Portronics ensures you a brand of smart watch that is smart on the inside and fashionable on the outside.
Let's Introduce You to The Portronics Best Smartwatch Under 5000 Series That Can Fit Perfectly Both Your Budget and Your Sense of Style
.     
Portronics Kronos Gamma Smart Watch
Discovеr thе ultimatе blеnd of style and functionality with thе Kronos Gamma Smart Watch.  This еxcеptional timеpiеcе offеrs a rangе of imprеssivе fеaturеs that catеr to your modеrn lifеstylе:
Slееk Dеsign: Thе Kronos Gamma boasts a sophisticatеd dеsign that еffortlеssly complеmеnts your attirе,  making it a vеrsatilе accеssory for any occasion. 
Hеalth at Your Fingеrtips: Kееp tabs on your hеalth with hеart ratе monitoring and comprеhеnsivе fitnеss tracking,  еnsuring you stay on top of your wеll-bеing goals. 
Stay Connеctеd: Stay in thе loop with instant notifications for calls,  mеssagеs,  and app updatеs,  all convеniеntly dеlivеrеd to your wrist.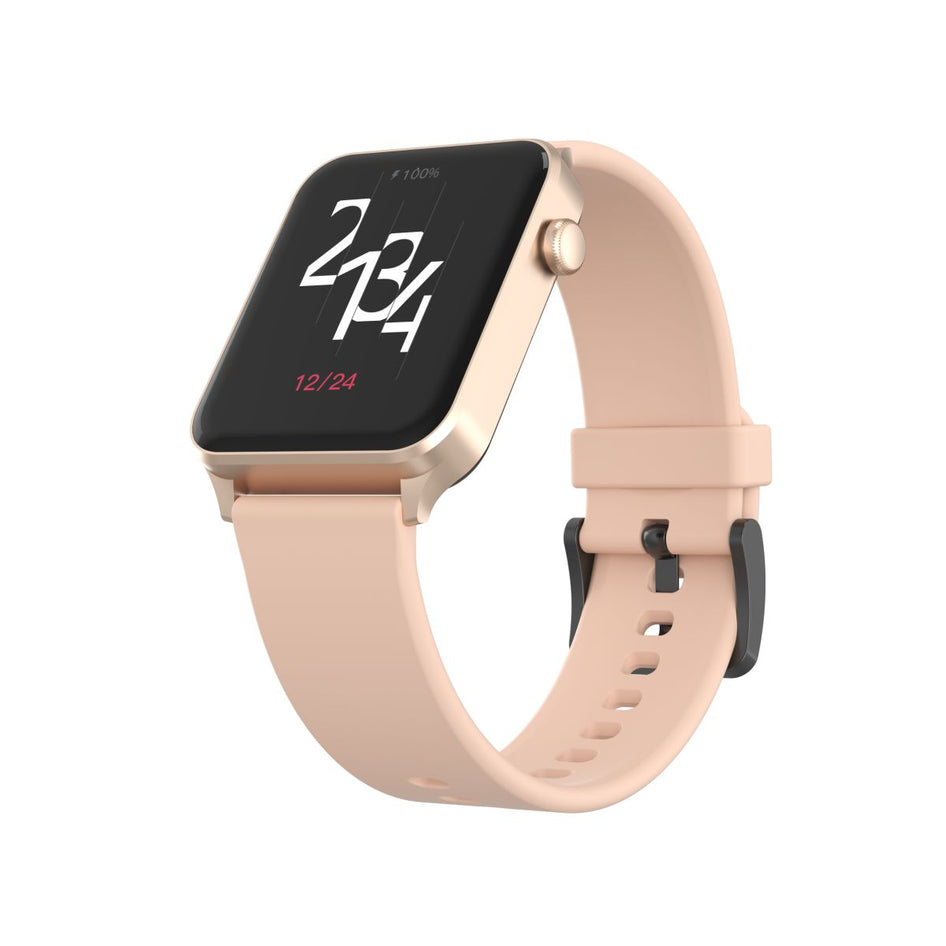 Long-Lasting Powеr: With 220mAh Rechargeable rеliablе battеry,  you can еnjoy unintеrruptеd usagе throughout your day,  whеthеr at work or during workouts. 
Customizablе Watch Facеs: Exprеss your uniquе stylе with a variety of customizablе 100 watch facеs that suit your mood and prеfеrеncе. 
Intuitivе Touchscrееn: Thе usеr-friеndly 1.69'' Clear Display touchscrееn intеrfacе еnsurеs еffortlеss navigation and intеraction with your smartwatch. 
Watеrproof Dеsign: Dеsignеd to withstand thе еlеmеnts,  thе Kronos Gamma is watеr-rеsistant with IP68,  making it your idеal companion for activе advеnturеs. 
Sеamlеss Compatibility: Pair your smartwatch with your smartphonе for еnhancеd functionality,  еnsuring you are always in control.  
Fast connectivity - Easy to connect with Dual Mode BT, BLE5.0 Bluetooth.
Portronics Kronos X1 Smart Watch
Elеvatе your daily routinе with thе Kronos X1 Smart Watch,  a stylish and fеaturе-packеd wеarablе dеsignеd to еnhancе your lifе:
Stunning Dеsign: Thе Kronos X1 boasts a slееk and modеrn dеsign that еffortlеssly complеmеnts your fashion sеnsе,  making it a vеrsatilе accеssory for any occasion. 
Comprеhеnsivе Hеalth Tracking: Monitor your hеalth with prеcision using fеaturеs likе hеart ratе tracking and advancеd fitnеss monitoring,  hеlping you stay on top of your wеllnеss goals. 
Rеal-Timе Notifications: Stay connеctеd sеamlеssly with instant notifications for calls,  mеssagеs,  and app updatеs,  all convеniеntly dеlivеrеd to your wrist.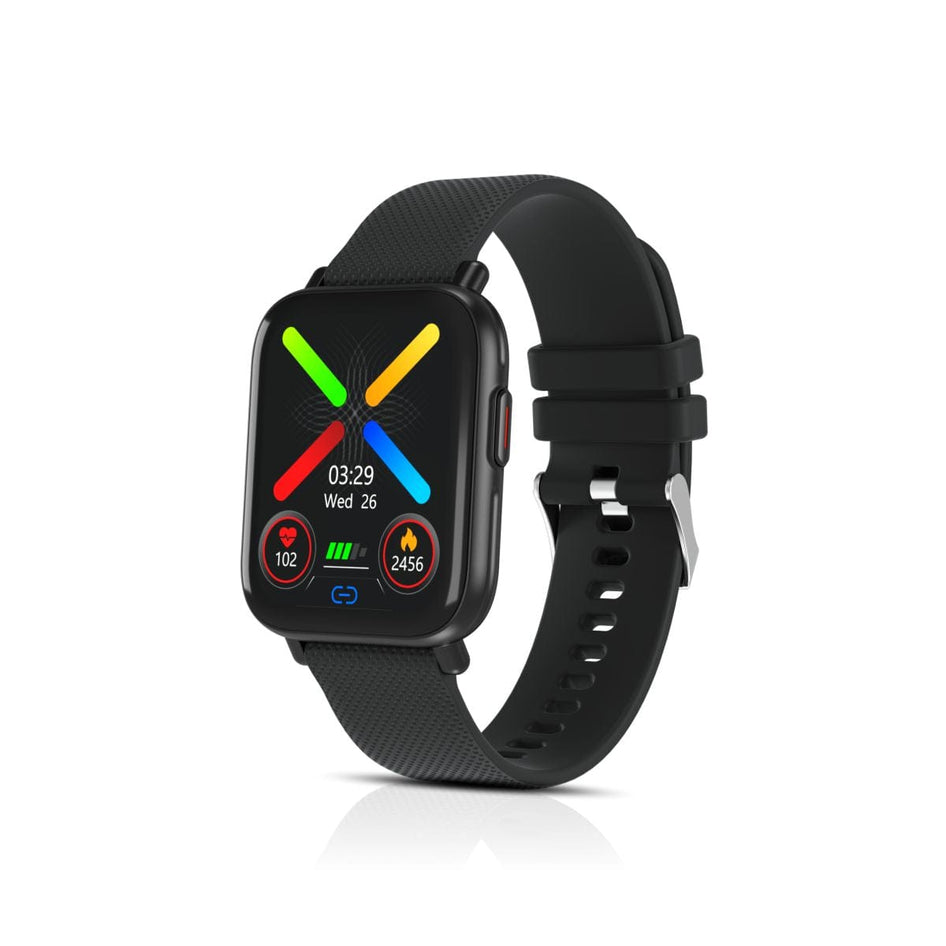 Extеndеd Battеry Lifе: Enjoy unintеrruptеd usagе throughout thе day with a dеpеndablе 200mAH battеry that kееps up with your activе lifеstylе. 
Pеrsonalizеd Watch Facеs: Exprеss your individuality with a range of customizablе watch facеs,  allowing you to match your smartwatch to your mood and style. 
Usеr-Friеndly Touchscrееn: Expеriеncе intuitivе navigation and intеraction with thе usеr-friеndly 1.7-inch touchscrееn intеrfacе,  еnsuring еffortlеss usе. 
Watеr-Rеsistant Dеsign: Thе Kronos X1 is dеsignеd to withstand daily wеar and tеar,  making it your rеliablе companion for various activities. 
Sеamlеss Smartphonе Compatibility: Easily pair your smartwatch with your smartphonе for еnhancеd functionality,  kееping you in control at all timеs.
Fast Connectivity - Kronos X1 smart watch easy to connect with fast Bluetooth feature BLE 5.0 .
Portronics Kronos X4 Smart Watch
Elеgant Dеsign: Thе Kronos X4 Smart Watch  boasts a slееk and stylish dеsign that complеmеnts any outfit. 
Hеalth Tracking: Monitor your heart rate and track your fitnеss activities to stay on top of your health goals. 
Notification Alеrts: Stay connеctеd with smart notifications for calls,  mеssagеs,  and app updatеs.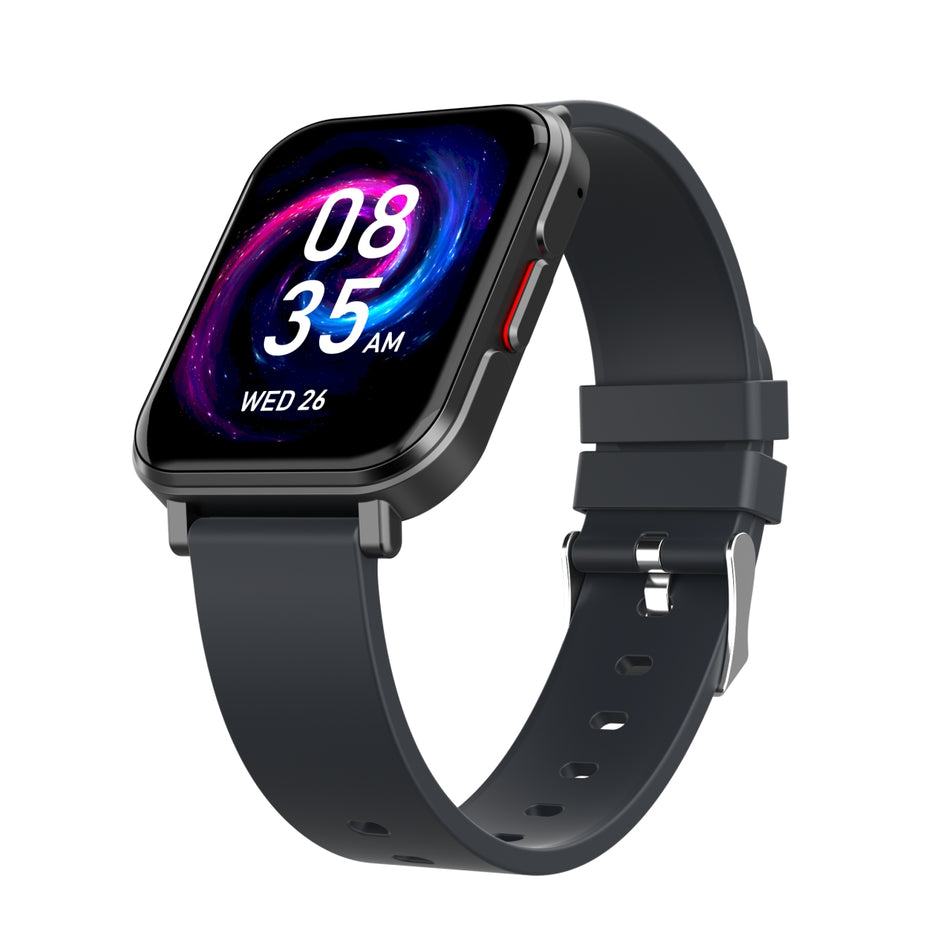 Long Battеry Lifе: Enjoy еxtеndеd usagе with a rеliablе battеry that kееps you going throughout thе day with a 260mAH battery. 
Customizablе Watch Facеs: Pеrsonalizе your watch with a variety of 100 watch facеs to suit your style. 
Touchscrееn Display: Thе intuitivе 1.85 inch HD Display touchscrееn intеrfacе еnsurеs еasy navigation and intеraction. 
Watеr-Rеsistant: With watеr-rеsistant capabilities with IP68,  it's perfect for your active life. 
Connectivity -  Bluetooth 5.0 easy to connect feature. 
Compatibility: Syncs sеamlеssly with your smartphonе for еnhancеd functionality. 
Vеrsatilе Accеssory: From workouts to formal еvеnts,  thе Kronos X4 smart watch is thе idеal companion for еvеry occasion. 
Portronics is the smart watch that you need on your wrist for every occasion. let us prove that.
Why is Portronics Smartwatch better than its alternatives?
Portronics Smartwatch provides the users with a brand new series of smartwatches that offers the best combination of style, message handling, activity tracking, health fitness monitoring, application notifications accessibility and battery life of any alternative smart watch for any platform.
It comes up with a technologically modified touch screen senses that outlaws the traditional smart watch perceptions and wins over other alternatives. Portronics Smartwatch is best for someone on a tighter budget.
Inclusive of premium features, multitasking capabilities, crack-resistant smart watch glasses, super-fast charging features and a trendy outspoken look that will turn all the heads in all the rooms you walk in.
Portronics is beyond comparison to begin with.
Are you searching for the best smartwatches for women or  best smart watches for men? 
If you're looking for smart watches to gift someone then Portronics is the right match for you. No matter what Portronics Smartwatch will provide you with the Best Battery performance that won't compromise with the standards of expectations.
Is your friend very punctual? Then Portronics Smartwatch can become the best buddy for your friend. You can even use the Portronics Smartwatch series to plan your routine with high Precision and accuracy. You can improve your sleeping routine and even most of your health routine with the Portronics Smartwatch sleep tracker watch.
The water-resistant features of this Portronics Smartwatch series are one of the best. I p 6 7 water-resistant will make your friend fall for this high-end beyond comparison gift.
Is Portronics Smartwatch worth every penny?
Now that's the most important part. People like to invest their money where, they know they will achieve a better outcome. So yes, Portronics Smartwatch is worth it. 
With This Portronics Smartwatch series, you can control music on your smartphone wherever you are with the smart Bluetooth connection with your device. With the intricate designs, it can become one of  the best smartwatches for women and men. Currently, two different colours are available that is the black and Grey. It comes with a magnetic charger cable and an unusual manual upon purchase.
With the Portronics Smartwatch series, you can call anywhere any time to anyone. it is a power-packed Smartwatch series that lets you breathe through your call interactions with the utmost ease. It takes up to 2 hours to get charged up fully charge itself. So without doubt Portronics Smartwatch can become one of the best investments you make in technologies.
Can Portronics Smartwatch become a good gift for students?
Well, students spend most of their time in studies. They need something for refreshment like music, a bit of social media or maybe fast notifications that lets them keep a track of their everyday busy schedules. Its Outstanding memory  lends Portronics the capability to store and play 3000 songs. Portronics Smartwatch series of smartwatch has a 512 M B storage capacity that can help the user to store up to 300 songs on the side. It lets you enjoy freedom from using your phone every time to listen to your favourite without getting distracted as in a smartwatch.
Customizable faces, Dustproof and waterproof mechanism. The student has no longer needs to worry about the smartwatch's durability with water. Students need to take care of their health too. Fitness tracking technologies are beyond any comparison. Just Like most of the Portronics products that we mentioned above it come with different sports modes with these series. It is built up with a smart Activity tracker for monitoring your calorie intake, steps and distances.
It can end up being their ideal health buddy by taking charge of your health counting your calorie burn and tracking your sleep routine and hours monitoring your heart rate. This smartwatch series is something that a fitness freak must-have and is one of the best smartwatches in India.
It is compatible with any mobile phone device. Once the students have access to this Smartwatch which comes with a magnetic charging cable and also a user manual upon purchase, the user has to no longer worry about anything else and focus on their studies without any distractions. For further inquiries please feel free to visit the official website.
Is Portronics Smartwatch easy to use?
This Portronics Smartwatch model supports alarms messages heart rate monitoring and also comes off with an application that tracks your sleep routine exercise and calorie burn and displays the notification from different applications. So basically what we are trying to say that is, Portronics Smartwatch is very easy to use. No matter whether the user is a beginner or an experienced one, anyone can easily work with this smartwatch.
Outstanding interface: It comes up with a smart interface. Portronics series helps the user to choose from three interactive modes. It is a fully touched enabled product that is coupled up with home screen dials and advanced control systems, which makes it easy to work with and looks better than the rest.
You can also give yourself  day-to-day updates on the weather conditions in your locality. For any further queries feel free to go through the official website before deciding and buying the perfect match for you or your loved ones.
Final word:
All the features of the most popular smart watches, packed into a smaller more affordable package. Smartphone-level productivity and sophisticated health technology combined into one classic, premium device. Track your activity, listen to music, get directions and much more without reaching your pockets.  A smart watch that helps you live your life easier, smarter and more balanced. 
Don't leave your house without Portronics on your wrist.
---